Chocolate Almond Protein Bars
To me, there is nothing more frustrating than being hungry and not having anything healthy available. Because of this, I have learned to always be prepared by having protein bars, shakes and other quick snacks on hand.
The problem with most protein bars is that they are little more than a candy bar with protein powder. Most of the bars on the market are loaded with sugar, high fructose corn syrup, hydrogenated or partially hydrogenated oils (i.e. trans fats) and other junk. If the ingredients are OK (like a Kind or Lara bar) then then carbohydrate to protein ratio is unbalanced (like 30-40 g of carbs and only 10 g of protein) it's a recipe for a blood sugar spike!
When shopping for a protein bar, here are my personal guidelines:
250 calories or less
20g of protein or more
25g of carbohydrate or less
No hydrogenated oils
No high fructose syrup
Preferably no Soy protein
The best bar I have been able to find are the Quest Bar– they come in a variety of flavors, and are loaded with protein and fiber to keep you full… But I also like to experiment with my own recipes from time to time.
Chocolate Almond Protein Bars
SERVES 8 – NUTRITION PER SERVING:
232 calories / 20 g carbs / 12 g fat / 19 g protein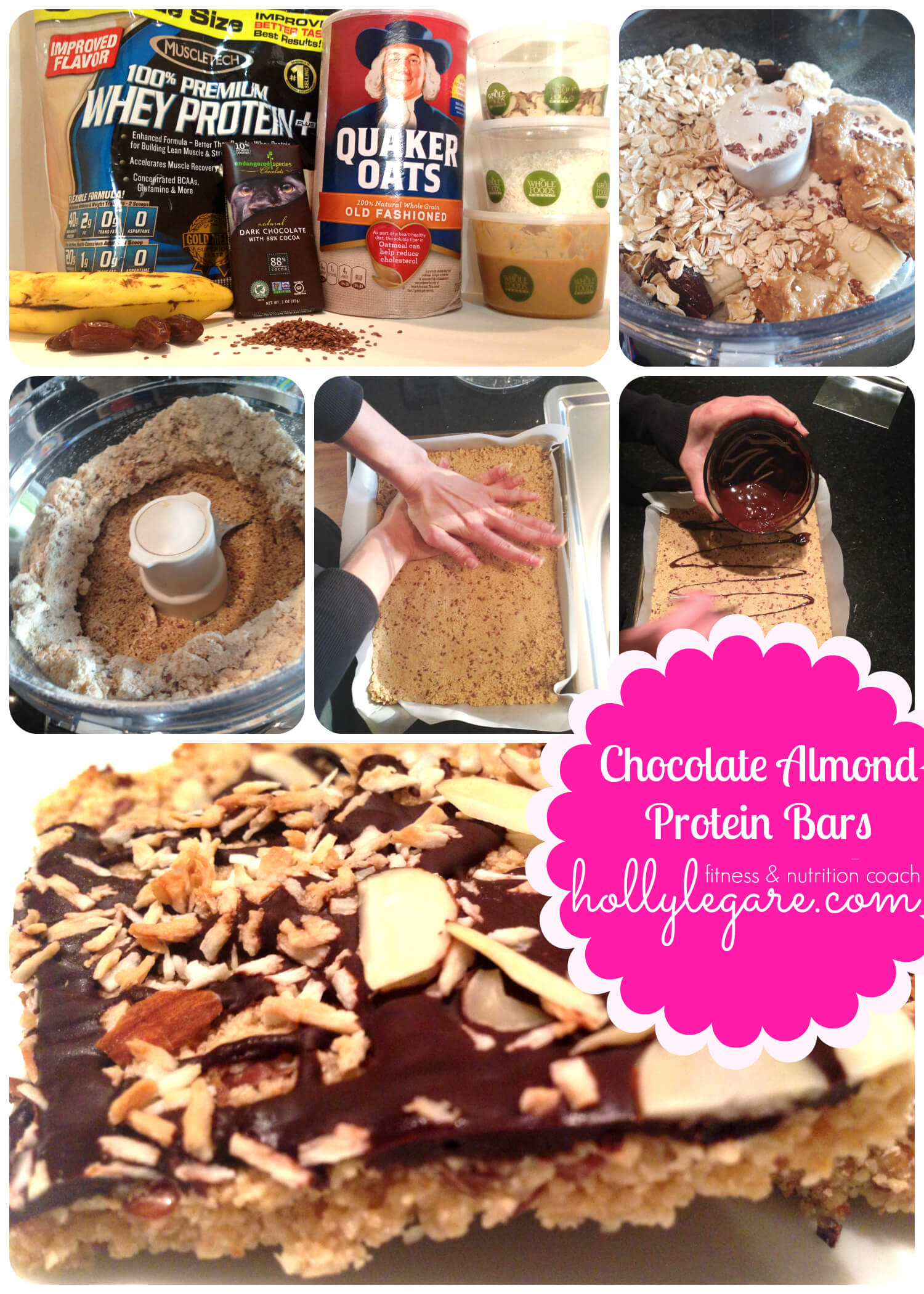 INGREDIENTS
4 scoops Vanilla Whey protein powder (I use Muscle Tech Whey or Advocare Muscle Gain)
1/2 tsp salt
2 tablespoons flax seed (Spectrum Brand)
5 tablespoons crunchy peanut butter at room temperature
1 medium ripe banana
1/2 cup old fashioned rolled oats
3 pitted dates

For the Toping:
1/2 bar 88% Endangered Species Brand Dark Chocolate Bars
3 tbsp sliced almonds
10 grams unsweetened shredded coconut
DIRECTIONS
Add all ingredients to a food processor.

Pulse until well blended

After ingredients are blended, gently pulse and add 1/2 to 1 tbsp water to make the mixture more "doughy"

Spray a baking dish with baking spray and lay down parchment paper so that it covers the bottom and about 1/4′′ up each side.

Press mixture evenly into the dish. (It helps to spray the bottom of a glass cup with baking spray to gently press the mixture into the pan.)

Cover and put in your freezer for 1 hour (set a timer).

After an hour, take the bars out of the freezer and melt the chocolate carefully in a microwave.

Drizzle Chocolate on top of your bars & top your bars with shredded coconut and slivered almonds. (If the chocolate begins to harden before the almonds and coconut stick to it, you can put the bars under the broiler for ~1 minute to melt the chocolate again.)

Cut the bars into 8 servings & store in the freezer for up to 10 days. Enjoy!
If you have found this information to be useful, please SHARE this information [using the buttons below] to help spread the message of healthy living. Feedback and questions are welcome in the comments section below. Thanks for reading!
Losing weight is easier than you think – switch to the low-carb Quest Bar.