Fat Burning Superfoods for Fall
The fall months are like another January to me. It's a fresh start. Summer is coming to a close and it's time to get everything back on track. The autumn weather also brings some of my favorite flavors into season. Eating seasonally will give you the opportunity to try new things and keep your healthy eating exciting.
3 Reasons to Eat Seasonal Foods
It saves you money. When you buy seasonal produce in your grocery store, you are buying food when it is the most abundant, and thus the least expensive. If you buy straight from the source (say a farmers market) you get the added benefit of saving money by cutting out the middle man.
The flavors are at their peak. When produce is allowed the proper time to ripen on the vine, you are able to get the best possible version of that product. In season, local produce also tends to have a longer shelf-life since it didn't need to be picked early and shipped over long distances.
It adds nutrient variety to your diet. Eating seasonal foods will effortlessly give you more nutrition since the produce you're eating is at it's peak (having reached it's maximum antioxidant potential) and it keeps your diet exciting (since you're eating something new every few months).
My 5 Favorite Fat Burning Foods for Fall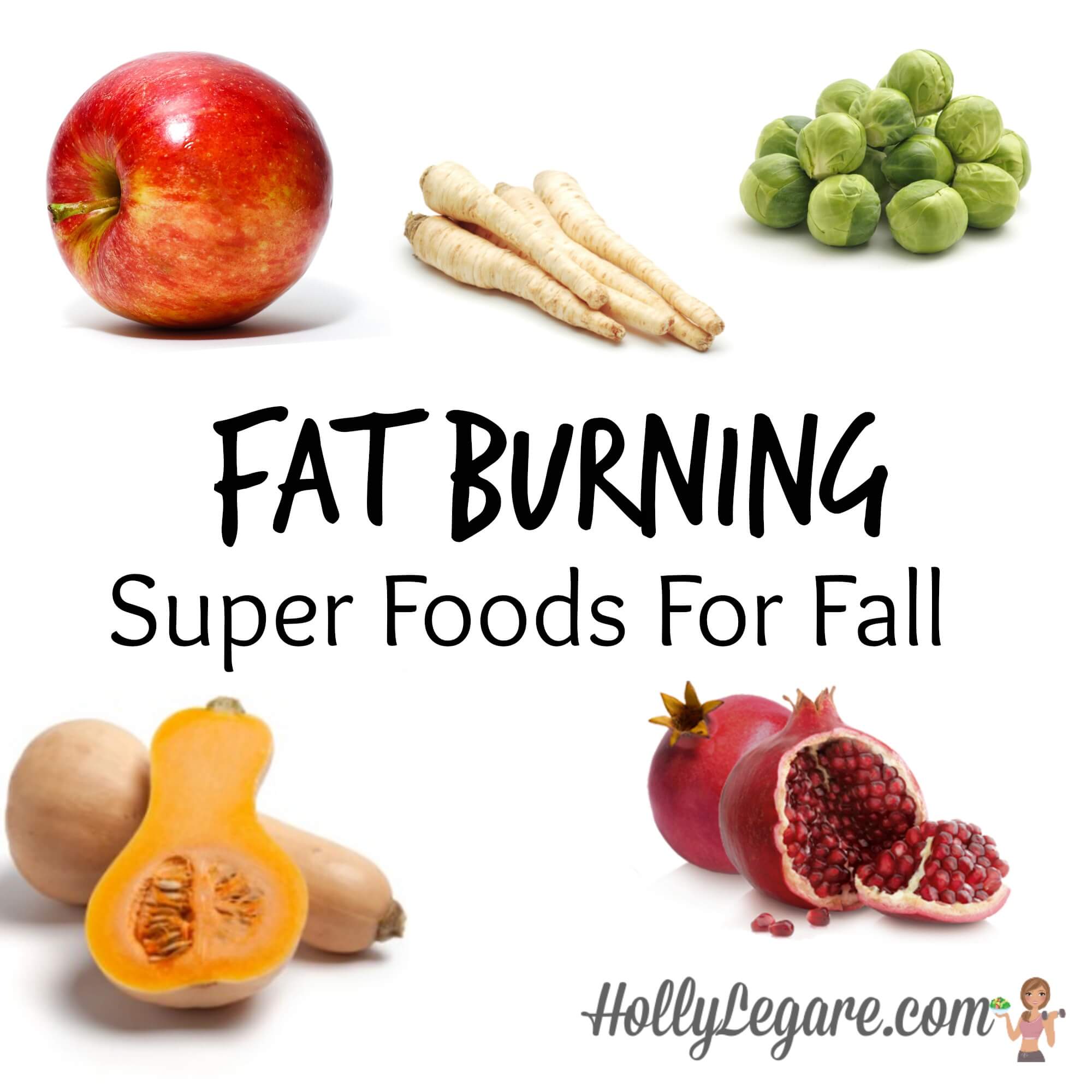 Apples are high in fiber and low in sugar making them a great way to satisfy your sweet tooth. Enjoy them by cutting them into 1 inch pieces and microwaving on high for 60 seconds. Sprinkle with cinnamon and stevia to taste & enjoy!
Brussels Sprouts are a good source of folate which is essential for heart and brain health. Enjoy them by sautéing in olive oil & sprinkling with a flavorful cheese like parmesan or picarino.
Parsnips are a great way to add variety to your diet and can replace any starch in a meal. They are rich in fiber and potassium. To enjoy, slice them lengthwise in quarters, toss in olive oil, season with salt, pepper and garlic and bake at 400 for 20-25 minutes.
Butternut Squash is high in beta carotene which is great for eye health and high in the antioxidant Vitamin C. Like the parsnips, butternut squash is great simply cut into cubes, lightly tossed in olive oil and baked at 400 for 20-25 minutes.
Pomegranates are well known for their high antioxidant content, are loaded with vitamin C and packed with flavor. Pomegranate seeds add a great flavor and sweetness to any salad. My personal favorite is to serve them with kale, goat cheese, and pecans.


As you can see, the autumn months offer a plethora of delicious and healthy foods that will keep your taste buds entertained and the pounds off your waistline. If you this information to be helpful please SHARE this post to help spread the message of healthy living. Thank you for reading!
[reminder]What's you're favorite fall food? Tell me about it in the comments![/reminder]
photo credit: Sharon Mollerus via photopin cc