My Top Picks For a Healthy Thanksgiving
Thanksgiving is coming! Did you know the average American may consume more than 4,500 calories?!?! and a whopping 229 grams of fat!!! … And that's ONLY the meal itself!!! (click here to read more)
But relax, I'm not here to put you on a guilt trip- I don't think that 1 day by itself creates that much damage. Instead, I think most of the problem is a result of the endless indulging day after day. Even so, I always try to select dishes that will be festive & enjoyable without being ridiculously over-indulgent. Below are some great tips & festive recipes that have inspired me for the holiday this year!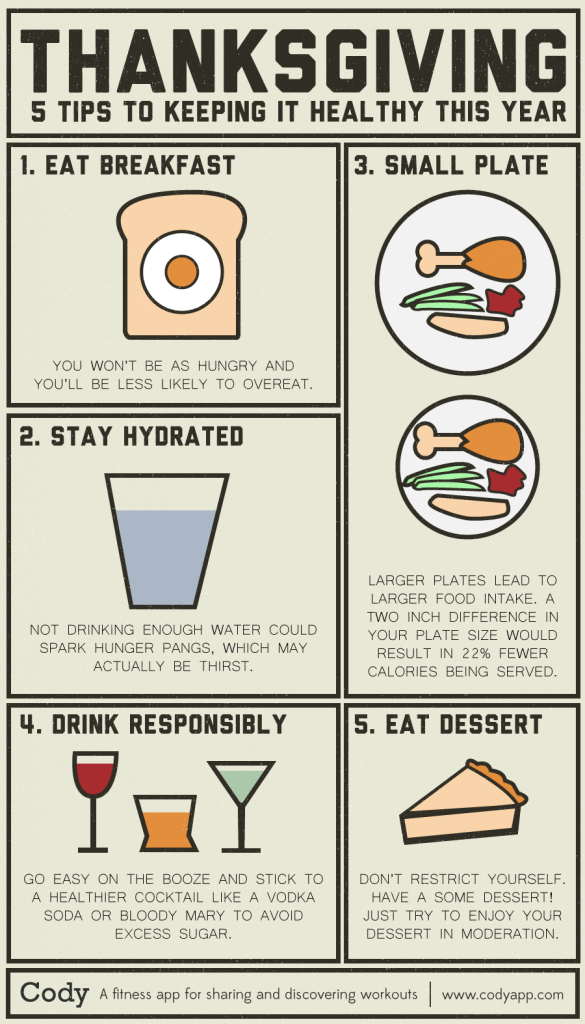 Spice-Rubbed Smoked Turkey with Roasted-Pear Stuffing and Cranberry Syrup from myrecipes.com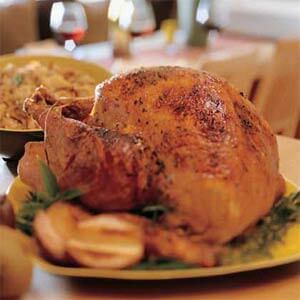 Ingredients
1 (12-pound) fresh or frozen turkey, thawed
3 tablespoons brown sugar
1 tablespoon kosher salt
2 teaspoons ground cumin
2 teaspoons dried oregano
2 teaspoons dried rubbed sage
2 teaspoons dry mustard
1 teaspoon dried thyme
1 teaspoon ground coriander
6 hickory wood chunks
Cooking spray
Roasted-Pear Stuffing
Cranberry Syrup
Preparation
To prepare turkey, remove and discard giblets and neck. Rinse turkey with cold water, and pat dry. Trim excess fat. Starting at neck cavity, loosen skin from breast and drumsticks by inserting fingers, gently pushing between skin and meat. Lift wing tips up and over back, and tuck under turkey. Place turkey on a jelly-roll pan. Combine the brown sugar and the next 7 ingredients (brown sugar through coriander). Rub seasoning mixture over and under skin. Cover turkey with plastic wrap; refrigerate 8 hours.
Soak wood chunks in water 1 hour, and drain well. Place a large, disposable aluminum-foil pan in center of bottom grill rack. Place 25 charcoal briquettes on each side of the pan; ignite briquettes. Place wood chunks over hot coals. Coat top grill rack with cooking spray; place over foil pan and hot coals. Uncover the turkey; remove from jelly-roll pan. Place on top rack over aluminum-foil pan. Insert a meat thermometer into meaty part of thigh, making sure not to touch bone. Cover and smoke turkey 2 1/2 hours or until meat thermometer registers 180°, adding 8 additional briquettes to each side of drip pan every hour. (Cover the turkey loosely with foil if it becomes too brown. Turkey will be a deep mahogany brown when done.) Discard skin. Serve with Roasted-Pear Stuffing and Cranberry Syrup.
NOTE: Try to resist checking the turkey too often. Lifting the grill lid decreases the temperature significantly.
Apple-Glazed Pork Loin Roast with Apple-Ham Stuffing from myrecipes.com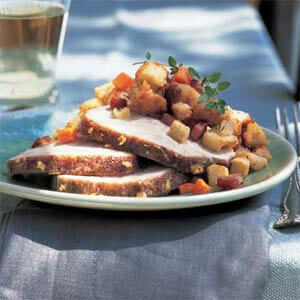 Ingredients
Stuffing:
6 cups (1/2-inch) cubed white bread (about 8 slices)
1 tablespoon butter or stick margarine
1 1/4 cups diced ham (about 6 ounces)
1/2 cup chopped onion
1/3 cup chopped carrot
1/3 cup chopped celery
1/2 teaspoon dried thyme
1/2 teaspoon dried rosemary
1 garlic clove, minced
1 1/2 cups chopped Granny Smith apple (about 1/2 pound)
1/4 teaspoon salt
1/4 teaspoon black pepper
1 cup apple juice
Roast:
3 pounds boned pork loin roast
1 tablespoon garlic powder
1 teaspoon ground cinnamon
1 teaspoon ground cumin
3/4 teaspoon salt
1/2 teaspoon ground allspice
1/4 teaspoon ground ginger
1/4 teaspoon black pepper
Cooking spray
2/3 cup apple jelly
2 teaspoons minced peeled fresh ginger
1 teaspoon grated lemon rind
Preparation
Preheat oven to 400°.
To prepare the stuffing, arrange bread cubes in a single layer on a jelly-roll pan. Bake at 400° for 6 minutes or until toasted; set aside. Melt butter in a large nonstick skillet over medium-high heat. Add ham; sauté 4 minutes or until lightly browned. Add onion and next 5 ingredients (onion through garlic); cook over medium-high heat 5 minutes or until tender. Add apple, salt, and 1/4 teaspoon pepper; cook 2 minutes. Add bread cubes and apple juice to stuffing mixture, stir gently. Set aside.
To prepare roast, trim fat from pork. Combine garlic powder and next 6 ingredients (garlic powder through 1/4 teaspoon pepper) in a small bowl; rub evenly over pork. Place pork on a broiler pan coated with cooking spray; insert meat thermometer into thickest portion of pork. Bake at 400° for 30 minutes. Combine the jelly, ginger, and lemon rind in a small bowl. Brush jelly mixture over roast. Spoon the stuffing onto the broiler pan around pork. Cover with foil, and bake at 400° for 15 minutes; uncover and bake an additional 15 minutes or until thermometer reaches 155°, basting pork occasionally with jelly mixture. Cover and let stand 10 minutes before slicing.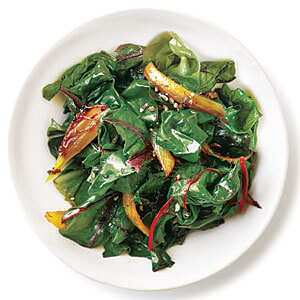 Ingredients
1 teaspoon olive oil
2 cups sliced yellow onion
Dash of baking soda
12 cups chopped Swiss chard
2 tablespoons water
2 teaspoons sherry vinegar
1/4 teaspoon freshly ground black pepper
Preparation
Heat a large nonstick skillet over medium heat. Add olive oil; swirl to coat. Add onion and baking soda; cook 10 minutes or until browned. Add Swiss chard and water to pan; cook 3 minutes or until chard wilts. Stir in vinegar and freshly ground black pepper.
Green Beans with Bacon from myrecipes.com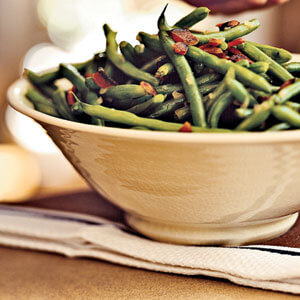 Ingredients
2 1/2 pounds green beans, trimmed
3 bacon slices
1/2 cup chopped shallots
1 teaspoon freshly squeezed lemon juice
1/4 teaspoon salt
1/4 teaspoon freshly ground black pepper
Preparation
Cook green beans in boiling water for 5 minutes or until crisp-tender. Drain and plunge beans into ice water; drain.
Cook bacon in a Dutch oven over medium heat until crisp. Remove bacon from pan; crumble. Add shallots to drippings in pan; sauté 4 minutes or until tender. Add beans, juice, salt, and pepper to pan; toss to combine. Cook 5 minutes or until thoroughly heated, stirring often. Remove from heat. Sprinkle bacon over bean mixture; toss.
Note:
You can cook the green beans and bacon up to two days ahead; refrigerate them separately until you're ready to assemble the dish.
Wild Rice and Cranberry Salad from myrecipes.com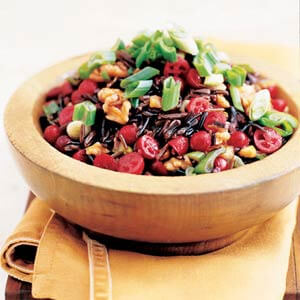 Ingredients
1 cup wild rice
1 tablespoon salt
3/4 cup cup walnuts
8 ounces (2 cups) fresh or thawed frozen cranberries
1/2 cup sugar
3 tablespoons walnut or vegetable oil $
1 tablespoon raspberry or rice vinegar
3 green onions, rinsed and chopped (including green tops)
1/2 cup dried cranberries, roughly chopped (optional)
Preparation
1. In a 4- to 6-quart pan, combine wild rice, salt, and 1 quart water. Bring to a boil over high heat; cover, reduce heat, and simmer until rice is tender to bite and most grains have just split open, 45 to 60 minutes. Drain in a colander and let cool.
2. Meanwhile, spread walnuts in a baking pan and toast in a 325° regular or convection oven until lightly golden under skins, about 10 minutes. Coarsely chop. Sort cranberries, discarding any stems and bruised or decayed fruit; cut each cranberry in half (see notes).
3. In a 2- to 3-quart pan over medium-high heat, stir the sugar and 1/2 cup water until the sugar is dissolved and mixture boils. Remove from heat; stir in the halved cranberries. Gently stir occasionally until insides of cranberries have turned red but are still firm, 8 to 12 minutes (see notes). Pour through a fine strainer into a bowl, reserving the cranberry-sugar syrup.
4. In a large bowl, gently mix wild rice, cranberry halves, oil, and vinegar. Stir in 2 tablespoons cranberry syrup; taste and add up to 1/4 cup more syrup to sweeten and moisten salad as desired (reserve remaining syrup for other uses). Cover and chill for at least 4 hours or up to 1 day (see notes).
5. Stir in all but 2 tablespoons of the green onions, along with the walnuts and dried cranberries (if using). Sprinkle with remaining green onions just before serving.
Note:
Cutting the cranberries in half (step 2) is time-consuming, but it makes a big difference in the texture of the finished salad. The cranberries may be steeped in sugar syrup (step 3) up to 1 day ahead; cover and chill in syrup (cranberries' color will deepen).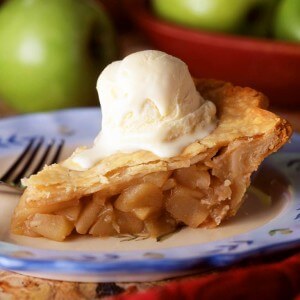 Ingredients
1 cup all-purpose flour
1/2 teaspoon salt
1/4 cup vegetable shortening
4 to 5 tablespoons cold water
1/2 cup measures-like-sugar calorie-free sweetener
1 tablespoon cornstarch
1 teaspoon ground cinnamon
1/4 teaspoon ground nutmeg
4 medium Granny Smith apples, peeled and sliced
1 teaspoon fresh lemon juice
Butter-flavored cooking spray
1/2 cup vanilla no-sugar-added ice cream (optional)
Preparation
Preheat oven to 425°.
Combine flour and salt; cut in shortening with pastry blender until mixture is crumbly. Sprinkle water, 1 tablespoon at a time, over surface of mixture. Stir with a fork until dry ingredients are moistened.
Shape dough into a ball. Roll into a 10-inch circle on a floured surface. Combine sweetener and next 3 ingredients; sprinkle over apple, and toss.
Spoon mixture into a 9-inch pieplate; sprinkle with lemon juice. Place pastry over apple mixture; fold edges under, and crimp. Coat with cooking spray.
Bake at 425° for 25 minutes. Serve warm.
Note:
For testing, we used Splenda as the calorie-free sweetener.
Regardless of whether or not you choose to have a traditional meal, or to try one of these healthy options above I wish you a very happy and healthy Thanksgiving holiday.
"It's in your moments of decision that your destiny is shaped." Anthony Robbins
Let's create a better, healthier you!
Yeah, I know… the fitness world can be a confusing place, even when it comes to something as simple as understanding what to eat.
Let me help you make sense of it all with my FREE video series Healthy Eating 101. In it you'll learn the what to eat, how much to eat, and strategies that make all of this simple & easy. Click Here to get started
As a special bonus you'll also get my ebook 8 Daily Habits to a Healthier You so you can get started right away.
Click Here to get started with my ebook 8 Daily Habits to a Healthier You & gain instant access to the 5 part video series Healthy Eating 101, for free.
If you this information to be helpful please SHARE this post to help spread the message of healthy living. Thank you for reading!
Resources:
photo credit: colemama via photopin cc
http://www.caloriecontrol.org/articles-and-video/feature-articles/stuff-the-bird-not-yourself
http://www.myrecipes.com/
http://blog.codyapp.com/five-tips-for-keeping-it-healthy-this-thanksgiving-infographic/