Simple Smoked Salmon Appetizer
Last week I had the honor of hosting my Grandmothers and my mother for a cocktail hour in my new home. Since this was my first time officially having guests over, I wanted to make it special- but I didn't have a whole lot of time to dedicate to it.
A few years back my husband came across this smoked salmon recipe and it has been hit with our friends every time we've served it. But since potato chips don't exactly scream "healthy" I decided to experiment a bit to use better quality ingredients and make it a little simpler.
All in all, the ingredients were about $15 and the total prep time was 20 minutes. Below you will find the recipe I came up with. This version is easy, healthy, and most importantly- tasty! It was a hit with the Grandmas. Enjoy!
Simple Smoked Salmon & Chive Appetizer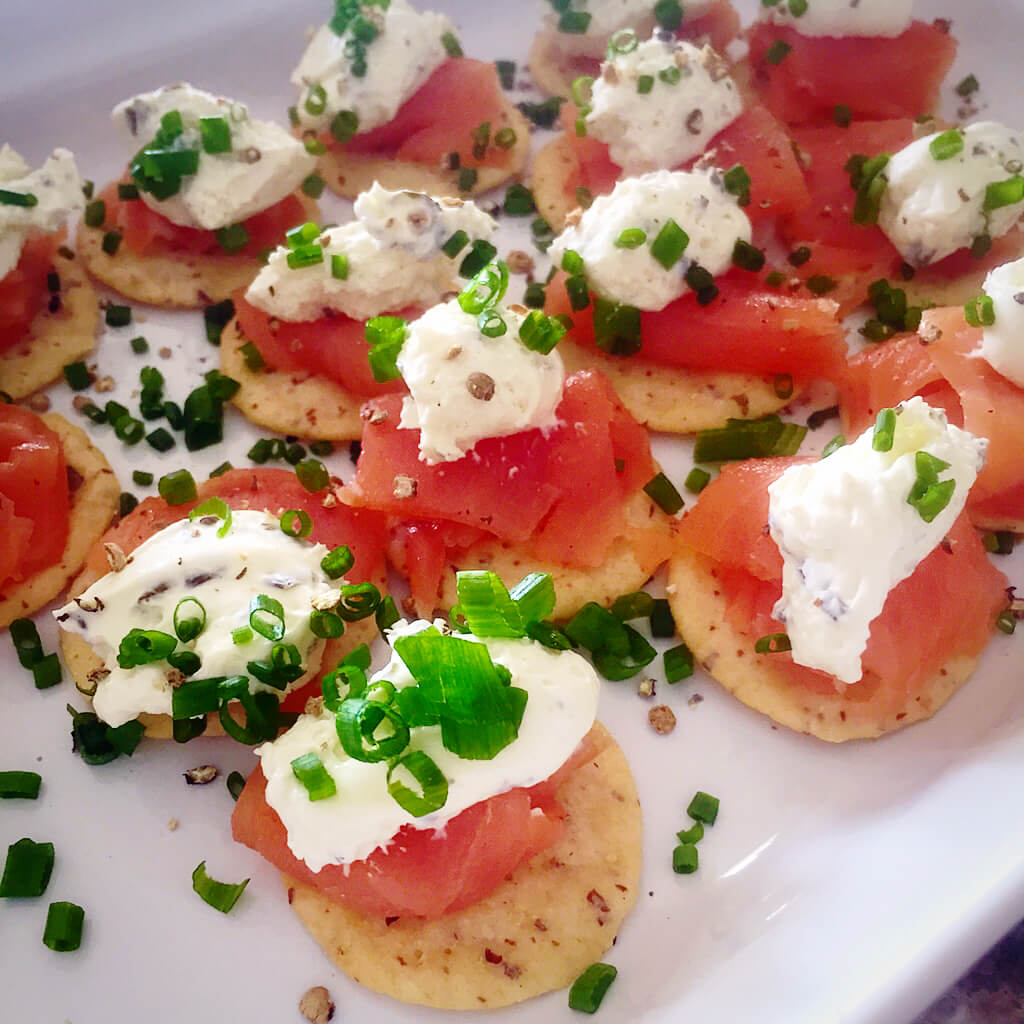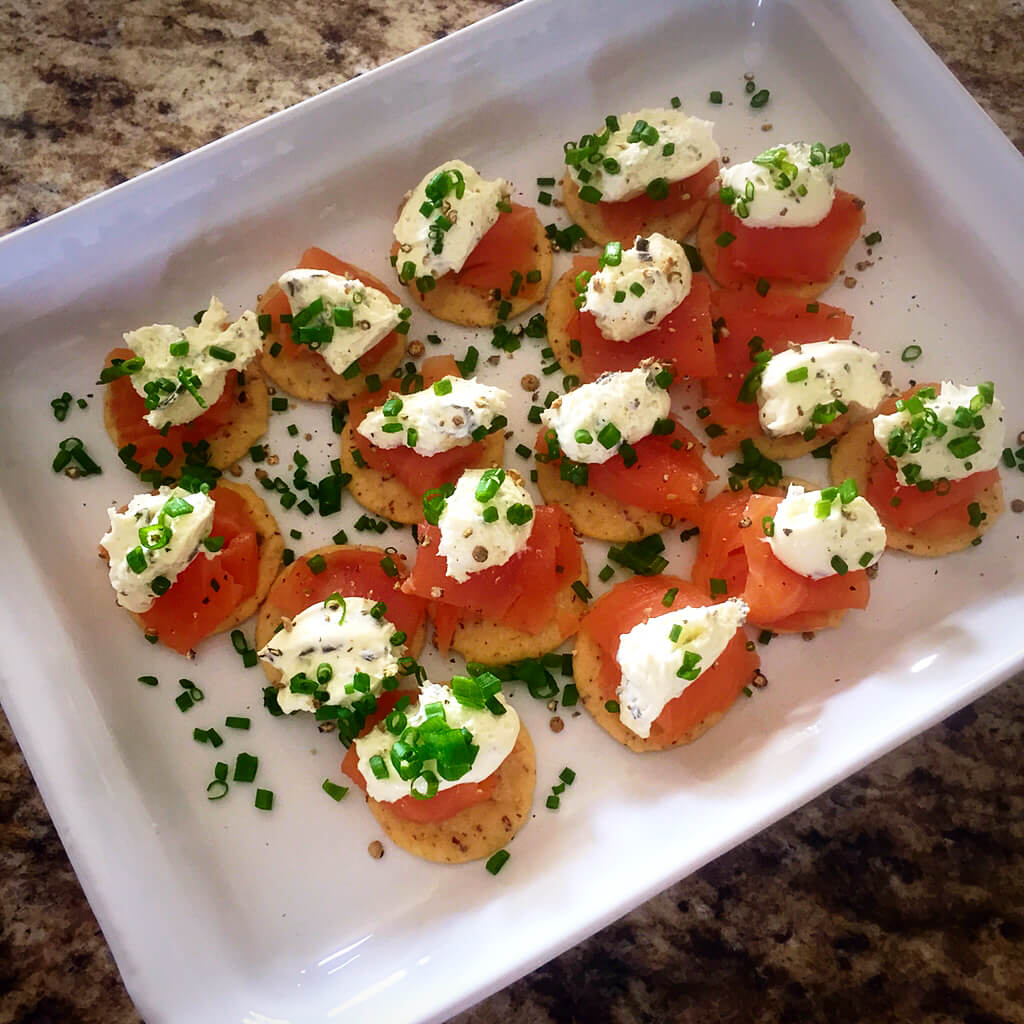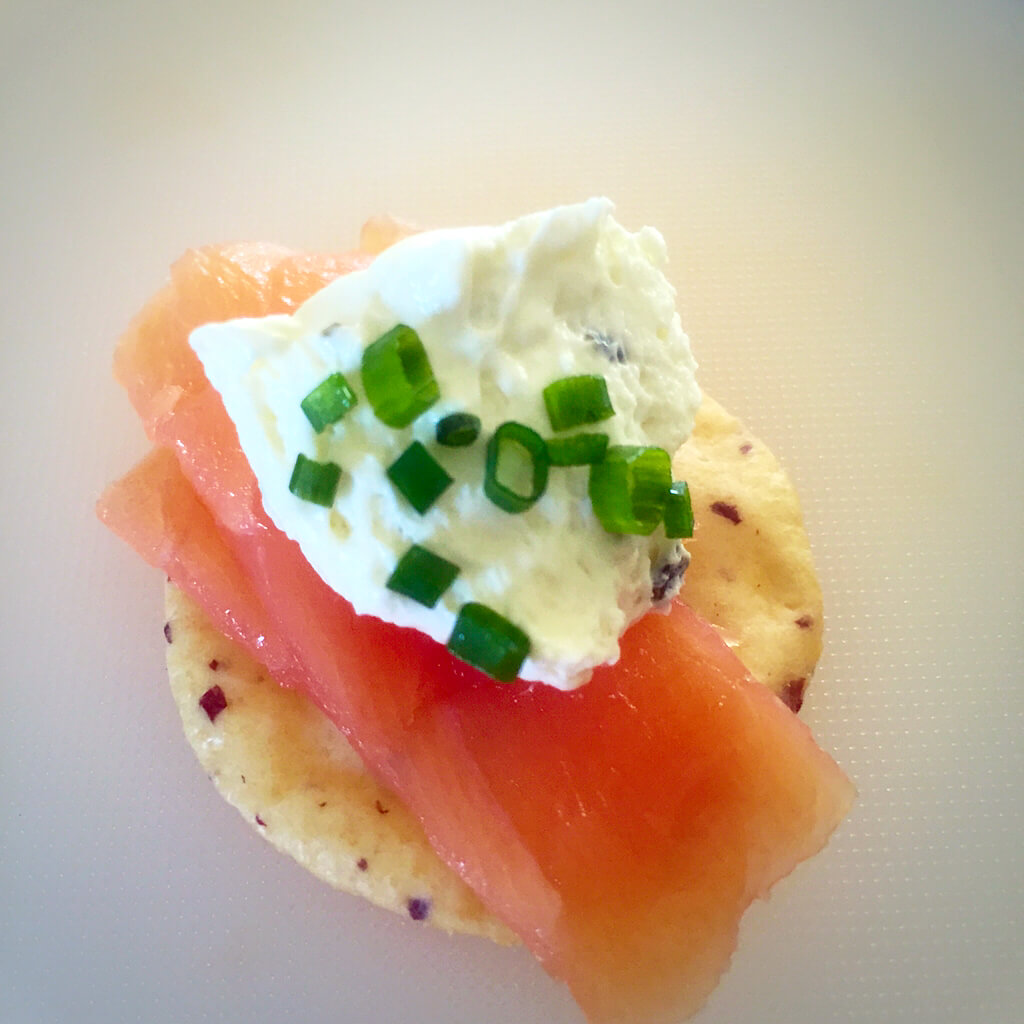 INGREDIENTS

Fresh chives for garnish
1 box of Nut Thins
Smoked Salmon from Sam's Club
Whipped cream cheese with chives (whipped varieties are lighter than traditional varieties)
1 package of Smoked Salmon (I used the 1.25 pound package from Sam's Club- and had plenty to use the entire package of crackers)
1 box Nut Thins crackers
1 bundle of fresh Chives
1 8 oz. package of Whipped Cream Cheese
DIRECTIONS
(1) Gather your ingredients, a serving platter, a cutting board, 1-2 small spoons, and your chef's knife.
(2) Lay the desired amount of crackers out on your serving tray.
(3) Tear or cut small pieces of salmon and place them on the cracker.
(4) Use the spoon(s) to make a quenelle with the cream cheese, gently placing it on top of the salmon piece.
(5) Finely chop your chives and sprinkle over each quenelle.
(6) Finish with freshly cracked black pepper.
Makes about 60 pieces
How To Make a Quenelle
A quenelle is a simple technique that will make this dish look extra fancy… and it's pretty easy once you get a little bit of practice. This video shows a technique using one spoon, but your can also use two spoons to create the space by passing the cream cheese back and fourth.

Let's Create a Better, Healthier, You
If you this information to be helpful, and think someone you know will enjoy it too, please SHARE this post to help spread the message of healthy living. 🙂 Click here if you'd like to stay in touch and receive updates directly to your mailbox. Interested in working with me? Check out: my Ebook Nutrition & Workout Programs, the Advocare 21 Day Challenge, and Fit City Chic [FREE] Workout Videos . Reach out here if you have any questions! To a better, healthier you!