Exercises for Low Back Pain
Have you ever woken up from a restful night's sleep only to feel an unexplained aching pain in your low back? Low-back pain is one of the most common complaints among adults in the United States and is one of the top reasons people miss work according to the Center for Disease Control. Back pain can be debilitating and effect every area of your life. Our best defense is to take preventative measures to avoid it in the first place.
Using proper form when lifting heavy objects and sleeping on a quality mattress is a must, but sometimes even the most innocent movement (like reaching for something in the back seat of your car) is enough to start a spasm in your back. A regular exercise routine that incorporates both stretching and strengthening of the musculature surrounding the low back and hips will help minimize your risk.
Back pain affects 8 out of 10 people at some point during their lives. [Medline Plus. Back Pain. http://www.nlm.nih.gov/medlineplus/backpain.html. Accessed March 11, 2013]
Back pain is usually a caused by lack of stability of the core and lack of flexibility of the hips which results in poor movement and eventually injury. Below I have created a simple routine that can be included with your regular exercise program. Do these exercises 3 times per week. The entire workout should only take about 20 minutes to complete. It may also help to do this first thing in the morning if you regularly wake up with a stiff back.
Exercises to Help Strengthen Your Back & Reduce Low Back Pain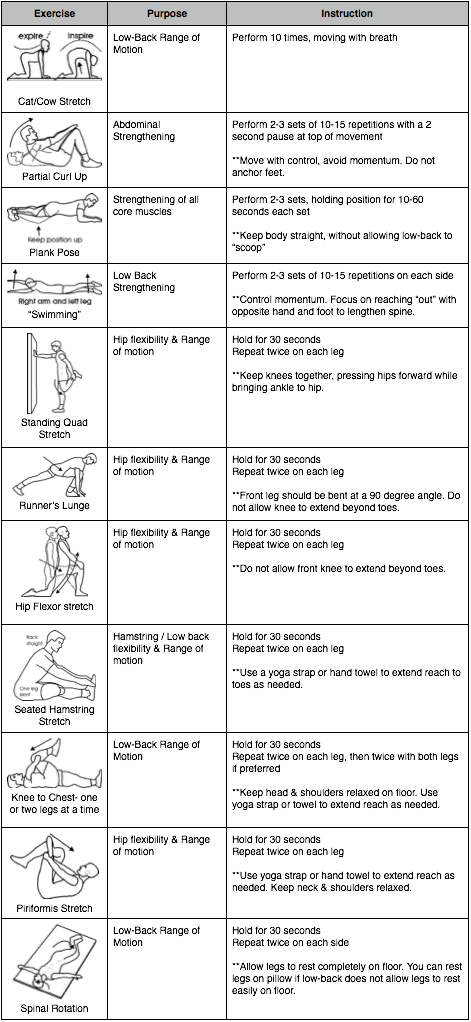 Maintaining our bodies for the long term is the most important reason to exercise. This routine will help you create strength and flexibility where you need it most to keep you healthy and strong.
[reminder]What exercise have you found that helps you when you're experiencing back pain?[/reminder]
If you this information to be helpful please SHARE this post [using the buttons below] to help spread the message of healthy living!
Thanks for reading!
Get a FREE Workout Program & Nutrition "101" Video